Super Gamer & Ipod Chair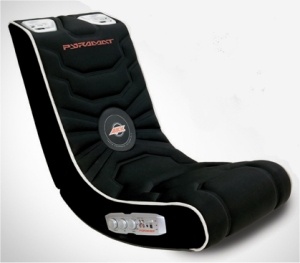 The
Pyramat Wireless Sound Rocker
is the perfectchair for those gamers needing a little more intimacy from their videogames, movies, and music. The sound rocker chairs feature speakers thathelp fully immerse you into your favorite media. With booming bass andclear sound, you will hear every footstep, and feel every explosion,punch or gunshot.
The S2500w (pictured) utilizes a FM wireless transmitter to beamsound wirelessly up to 20 feet. A 5.5 inch subwoofer in the back of therocker puts out 30w of bass that sends vibrations right through you.The chair also includes two full range ARX high performance speakers tocreate a personal surround sound effect.
The ARX hi-fi performance sound system works with all your portabledevices including iPODs, MP3 players, PSP and Nintendo DS. The soundrocker can work with more than just games though; try it out with yourfavorite movies and music or connect your iPod or MP3 player
The Pyramat Wireless Sound Rocker chairs come in four configurations and are available now ranging from $49 to $199.

http://www.slipperybrick.com/2006/12/pyramat-wireless-sound-rocker/